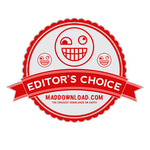 Port Tux Paint to Android made by Jianwei in GSOC 2015
License
Tux Paint is a free, award-winning drawing program for children ages 3 to 12 (for example, preschool and K-6).
Tux Paint is used in schools around the world as a computer literacy drawing activity.
It combines an easy-to-use interface, fun sound effects, and an encouraging cartoon mascot who guides children as they use the program.
Creator
tux4kids
Related apps